A3 Rack for Aluminum, Wood, PVC Windows and Doors
Double purpose model: it can be used to handle and transport doors and windows to yards with bridge crane (through hooks) and lift truck forks (from the front and from the side). You can use it as a trolley if you insert 4 wheels into special devices for extractable wheels.
Loading bases and shoulders are equipped with "C" iron channels, protected with PVC profiles. On request we weld slotted profiles for the housing of safety bars. With or without seats for extractable wheels.
Painted: Green RAL 6011 or Blue RAL 5017 or Hot galvanized.
For a minimum purchase of 8 racks we can personalize racks by welding on both sides n.2 iron plates with the name of the customer carved through laser.
On request we supply the device for insertion of lift truck forks and manual lifter in the front side of the rack.
Available versions: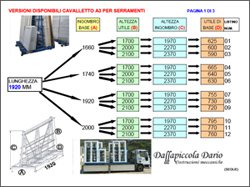 *click on the icons to view the specifics.
Total lifting capacity Kg. 800
(with safety coefficient 1:4 imposed by CE Norms), certificated and marked CE norms (Machine Directive 2006/42/CE once 98/37/CEE – DPR 459/96), delivered with "Manual for Use and maintenance", Certificate of compliance and Testing Report –
Tested with 3400 kg. weight
(as documented on our "Testing report for A3 Rack for doors and windows").
PLEASE NOTICE: A3 RACK CAN BE DIVIDED IN TWO PIECES.
To ease transport and save money on transport costs, we normalized the possibility to disassemble the rack, which is delivered divided into
two easily re-assembled parts
: base and shoulders stacked one onto the other and fixed through bolts. Once re-assembled, the rack will be identical to the welded one. Inside the our workshop the rack is assembled the first time, tested and then re-dissembled. In the disassembled version, the passage for lift truck / manual lifter forks is not possible